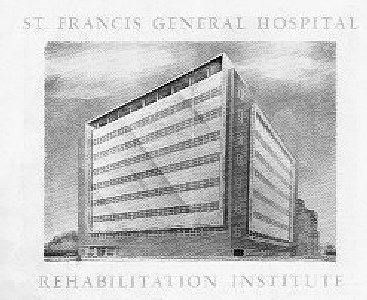 This facility no longer exists. It went bankrupt a few years ago and was purchased by the University of Pittsburgh Medical Center. It has been torn down and is being replaced with a state-of-the-art children's hospital.
Frustrated that my voc rehab had not worked out, in the summer of 1960, the PA Voc Rehab agency said the least they could do was to send me for a medical checkup since I did not have one after leaving WWRC. It was suggested that I go for a 3-day checkup at a new rehab facility that had just opened in Pittsburgh. It would benefit the agency because I could give them some feedback about the services. I took the offer, mostly to give my parents a respite. As it turned out, I was the 13th patient admitted to the facility. Ominous? No way. The staff and I bonded immediately and my 3 day stay turned into 30 days. Caught up in the emerging social awakening that occurred in the 1960's, the staff decided I should get the chance to go to college, which was my pre-injury plan. Back when I was a senior, I had a ROTC scholarship in hand, pending passing a physical. We developed a plan for me to integrate Pitt. To be honest, my only motivation initially was that it would be something interesting to try.
Right, Howard Rusk, MD, Father of Rehab Medicine, left, Tom Hohmann, MD, a protege of Rusk and Medical Director of the Rehab Institute. Eventually, Tom and I became colleagues. If I look a bit peaked, it is because I just got up after being packed in ice to cool my 105 temp. I spent 6 hours working with Rusk earlier in the day under blazing hot movie and TV lights making educational films and TV spots.